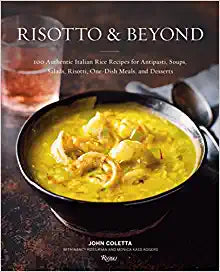 Risotto and Beyond by John Coletta
Regular price $20.00 Sale
Hardcover
Fresh off winning 1st place in the Italian category and 2nd place in the rice category at the 2019 Gourmand International Cookbook Awards, this book is a definitive guide to the Italian rice-cookery repertoire.

From acclaimed Chicago chef and restaurateur John Coletta comes a recipe collection focusing on a relatively unexplored area of Italian cuisine—rice cookery. Rice is a staple of northern Italy, where all Italian rice is produced. A rich and varied rice-based cookery has developed in this region. These 100 authentic dishes bring the full range of Italian rice cooking into the home kitchen, from familiar dishes—arancini, crochettes, risotti, and rice puddings—to more unusual offerings such as rice salads, soups, fritters, bracioli, and gelatos.

Coletta shares his expertise about Italian rice types and cooking methods, and provides foolproof instructions for making perfect rice every time. He also includes background about the rice varieties and where they can be purchased. Among the recipes are Rice Crostini with Ricotta and Oregano; Rice Soup with Shrimp and Leeks; Rice Salad with Bresaola and Parmigiano Reggiano; Risotta alla Carbonara; Artichokes Stuffed with Lemon and Thyme Risotto; Braised Turkey Rolls with Chestnut Risotto, Pancetta, and Sage; and Rice Crepes with Nutella.

This volume will appeal to lovers of Italian food who are looking for a cookbook that includes many of their favorite Italian ingredients all with rice as the new star.