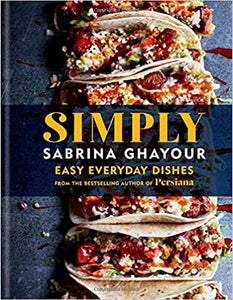 Simply Easy Everyday Dishes by Sabrina Ghayour
Regular price $34.99 Sale
Hardcover
Easy. Everyday. Simple.
Sabrina Ghayour's new collection of unmissable dishes in her signature style, influenced by her love of fabulous flavors, is full of delicious food that can be enjoyed with a minimum of fuss. With sections ranging from Effortless Eating to Traditions With a Twist,
Simply
provides over 100 bold and exciting recipes that can be enjoyed every day of the week.
Recipes include:
Baked sweet potato & za'atar chips
Pomegranate molasses & honey glazed meatballs
Kabab koobideh
Marinated steak with labneh, pul biber butter & onions
Chilled pistachio & cucumber soup
Chorizo, goats' cheese & cumin borek
Goats' cheese, vegetable & za'atar filo tart
Albaloo polow (lamb & sour cherry rice)
Harissa chicken noodle lettuce cups
Tahini, almond & orange brownies
Saffron & sesame shortbreads
Turmeric, orange & coconut rice pudding