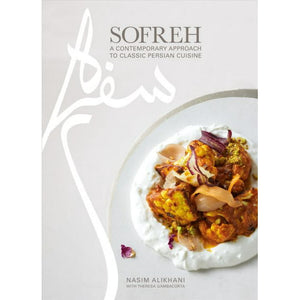 Sofreh A Contemporary Approach to Classic Persian Cuisine by Nasim Alikhani with Theresa Gamboacorta
Regular price $40.00 Sale
Hardcover
The much-anticipated cookbook—an exquisite collection of Persian recipes—from the James Beard–nominated chef of Sofreh, one of Brooklyn's most acclaimed restaurants.
Growing up in Isfahan, a province in central Iran, Nasim Alikhani was a passionate cook from childhood, spending the first years of her life in the kitchen alongside her mother. And so, when she departed after the revolution it was by re-creating the dishes of her youth that she was able to feel connected to her home. After decades of cooking for friends and family, at the age of fifty-nine she opened Sofreh restaurant in Brooklyn, to share the food and warm culture of her native Iran with a wider circle.
Now, in her first cookbook, Alikhani offers her readers what she has lovingly been providing for those who know her and who eat in her restaurant: the true tastes of Iran. Here is the timeless, soul-satisfying food of Persia, with its trademark bold herb and spice flavors, succulent, savory stews and stuffed meats, vast bounty of brightly pickled vegetables and fresh fruits, and much, much more.
Containing more than 120 recipes, Sofreh brings together traditional Iranian dishes and modern Sofreh favorites.
Sour Cherry Rice
Roasted Cauliflower with Shallot Yogurt and Pistachios
Sour Chicken Stew
Rosewater and Cardamom Custard
and, of course, everything you need to create a true Iranian breakfast spread at home
A joyous celebration of one of the world's great cuisines, this essential guide will delight home cooks everywhere.