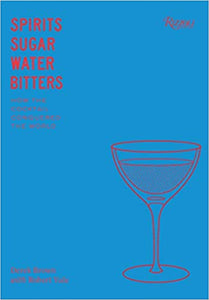 Spirits Sugar Water Bitters How the Cocktail Conquered the World by Derek Brown
Regular price $39.95 Sale
Hardcover
The story of the cocktail --"the only American invention as perfect as the sonnet," according to H.L. Mencken --featuring 45 recipes for rediscovered classics and inspired originals.


A cocktail-- the fascinating alchemy of simple alcohols into complex potables-- is an invention as unlikely as it is delicious, and an American innovation whose history marches in step with that of the Republic. In 
Spirits Sugar Water Bitters
, nationally recognized bartender and spirits expert Derek Brown tells the story of the cocktail's birth, rise, fall, and eventual resurrection, tracing the contours of the American story itself.

In this spirited timeline, Brown shows how events such as the Whiskey Rebellion, Prohibition, and the entry of Hawaii into the United States shaped the nation's drinking habits. Brown also tells the stories of the great men and women who made their mark on cocktail culture, including America's Distiller-In-Chief George Washington and modern-day King Cocktail Dale DeGroff, as well as lesser-known mixology heroes like Martha Niblo, the nineteenth-century New York proprietress famous for her Sherry Cobblers, and Frederic Tudor, whose ice-shipping business gave early drinks like the Cobbler and the Mint Julep the chill they needed. Featuring classic and original recipes inspired by each period, this book serves up the perfect mix of geography, history, culture, and taste.