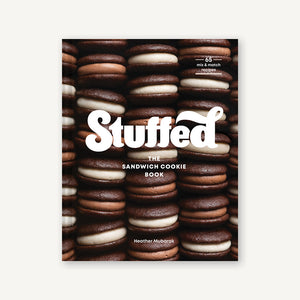 Stuffed The Sandwich Cookie Cookbook 65 Mix and Match Recipes by Heather Mubarak
Regular price $29.95 Sale
Hardcover
Double the cookie, double the fun. Ice cream sandwiches, whoopie pies, macarons, homemade Oreos-this irresistible baking book has recipes for all these delicious sandwich cookies and plenty more. From Browned Butter Blondie blog creator Heather Mubarak, Stuffed features 65 mix-and-match cookie sandwiches for every occasion and craving, including both sweet and savory bakes that range from childhood classics with a twist (Nutter Butters! Chipwiches!) to sophisticated, party-ready treats (Strawberry Shortcake Macarons, Parmesan Polenta Crackers with Chive Cream Cheese). A whole chapter dedicated to swirly buttercreams, smooth ganache, fruity jams, and more lets you experiment with different cookie-filling pairings to your heart's content. Or leave out the filling altogether for a super simple bake-the possibilities are endless! Home bakers of all levels will appreciate the flexible, choose-your-own-adventure format, while fans of Snacking Cakes, Dessert Person, and 100 Cookies will delight in a new trove of crave-worthy recipes. In a chunky package with a puffy case and a photo of every cookie sandwich, this book is stuffed with all the cookie recipes you'll ever need.
EVERYONE LOVES COOKIES! Cookies are easy to bake and they're delicious. They're the perfect weeknight activity/dessert, a top seller at bake sales, a holiday favorite, and an all-around crowd pleaser. This book offers 65 original recipes that feature not one, but TWO cookies apiece. More is more!

GREAT VALUE: Stuffed offers great overall value: 65 cookie sandwich recipes with recommended fillings + more than 30 filling recipes (frostings, jams, ice creams, curds, ganaches) in a separate chapter = endless possibilities for variation. Home bakers can follow the recipe exactly, mix and match cookies and fillings, or skip the filling altogether. With more than 80 photos, including a photo of every cookie sandwich, Stuffed delivers a lot of delicious bang for your buck.

BUZZWORTHY AUTHOR: Heather is the creator of Browned Butter Blondie, a popular baking blog whose Instagram was named by BuzzFeed as one of the 30 Best Instagram Food Accounts You Should Be Following" alongside Nik Sharma's, Smitten Kitchen's, Molly Yeh's, and others'. She's a serious, experienced baker known for delicious recipes and beautifully styled photos. Her first book reflects all of this: well-tested, indulgent bakes with tons of gorgeous visuals to feast your eyes on.

UNIQUE OFFERING: Despite the numerous cookie recipe books on the market, the sandwich cookie angle has never been done before. Unique in its versatility, Stuffed makes an excellent gift for home bakers no matter how many baking books they already own-you can be sure they don't have anything like this!
Perfect for:
• Cookie lovers of all ages
• Home bakers of all levels: recipes are accessible and flexible, allowing for experimentation
• Fans of Dorie's Cookies, 100 Cookies, Snacking Cakes, Dessert Person, or Zoe Bakes Cakes
• Followers of the Browned Butter Blondie blog or Instagram account
• Shoppers looking for a fun birthday, hostess, or holiday gift alongside a baking utensil, apron, or bars of chocolate