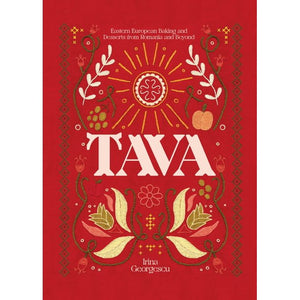 Tava: Eastern European Baking and Desserts from Romania and Beyond by Irina Georgescu
Regular price $42.00 Sale
Hardcover
Tava
is a meticulously researched baking book celebrating centuries of diversity and overlapping cultures that form today's cuisine in Romania. The author's aim is to also share the story of those dishes that have come to represent the identity of different cultural communities across the country. Tava means tray in Romanian, a metaphor for how a whole culinary landscape is presented to the reader.
You will find Armenian pakhlava, Saxon plum pies, Swabian poppyseed crescents, Jewish fritters, and Hungarian langoși alongside plăcinte pies, alivenci corn cake, strudels and fruit dumplings. Rice or pearl barley puddings, donuts and gingerbread biscuits come with their own story, while chocolate mousses, meringues in custard sauce and coffee ice cream introduce you to the glamour of famous Romanian and Eastern European pastry shops.
The book is written with integrity and respect towards this rich heritage connecting the past with a present which can be encountered by the reader when travelling in Romania. The recipes are easy to follow, beautifully photographed, and tempt the reader to embrace the unfamiliar as much as the familiar, while enjoying their comforting and homely feel.