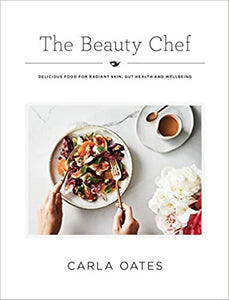 The Beauty Chef Delicious Food for Radiant Skin Gut Health and Wellbeing by Carla Oates
Regular price $35.00 Sale
Hardcover
2018 James Beard Award Nominee

Beauty is more than skin-deep, it comes from within – from the gut, to be precise. Glamorous it may not be, but a well-balanced gut bacteria can be the answer to glowing health and beauty. In The Beauty Chef Carla Oates, founder of the natural beauty company of the same name, combines the joy of cooking with the science of nutrition, offering you glowing skin and optimum gut health.

Find more than 150 delicious and nutritious recipes that are gluten-free and mostly dairy-free to feed both your skin and your gut, alongside practical words of wisdom from the wellbeing authority, who has been researching, writing and teaching on organic beauty for the past 15 years. With The Beauty Chef, every meal you eat, be it breakfast, dinner or a tempting dessert, will leave you feeling and looking better inside and out.