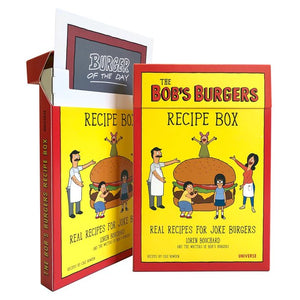 The Bob's Burgers Recipe Box Real Recipes For Joke Burgers by Loren Bouchard and the writers of Bob's Burgers
Regular price $14.95 Sale
Boxed
A set of recipe cards featuring the best pun-filled burger recipes from the hit TV show Bob's Burgers.
The Bob's Burgers Recipe Box is a collection of thirty-five recipe cards collected from the New York Times best-selling The Bob's Burgers Burger Book. Stored in a sturdy, full-color hinged box, it is perfect for any kitchen. The recipes in this box include the Bleu is the Warmest Cheese Burger, the Bruschetta-Bout-It Burger, and the Shoot-Out at the OK-Ra Corral Burger (comes with fried okra). Serve the Sweaty Palms Burger (comes with hearts of palm) to your ultimate crush, just like Tina Belcher, or ponder modern American literature with the I Know Why the Cajun Burger Sings Burger. It also includes five blank cards to write and share your own burger recipes.
Fully illustrated, The Bob's Burgers Recipe Box features the entire Belcher family as well as beloved characters including Teddy, Jimmy Pesto, Jr., and Aunt Gayle.