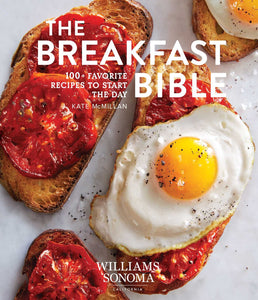 The Breakfast Bible by Kate McMillan
Regular price $13.00 Sale
Hardcover
With more than 100 recipes covering every part of the morning meal, from eggs and bacon to fruits and grains, breads and pastries, healthful bowls, griddle cakes, morning beverages, and more, 
The Breakfast Bible 
has plenty of options to wake up your day.

Featuring a comprehensive collection of classic and contemporary breakfast recipes, easy-to-customize options for morning favorites, simple tips and techniques, and gluten-free alternatives,
The Breakfast Bible
has everything you need to prepare the most important meal of the day. Whether you want to host a weekend brunch with a DIY Bloody Mary bar, treat someone to breakfast in bed with homemade waffles, or take something to go, there's something for everyone in this diverse recipe collection.


Additional recipes include
: Orange Marmalade Bread and Butter Pudding, Raspberry Lemon Muffins, Almond Streusel, Egg-topped Asian Noodle Bowl, Mediterranean Strata, Honey Butter, Fingerling Potato, Green Onion, Bacon & Rosemary Frittata, Smoked Salmon, Crème Fraiche & Chive Scrambled Eggs, Classic Buttermilk Pancakes, Buckwheat Crepes, Banana, Almond Butter, Date & Cinnamon Protein Shake, Maple Pecan Coconut Granola, Breakfast Yogurt Parfaits and many more.