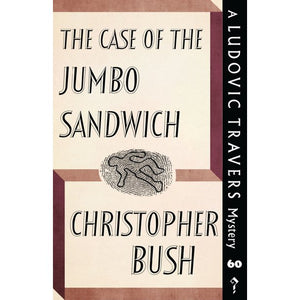 The Case of the Jumbo Sandwich A Ludovic Travers Mystery by Christopher Bush
Regular price $16.99 Sale
Paperback
"Death from manual strangulation after a blow that slightly fractured the skull."
Ludovic Travers, private investigator, is approached by a slight acquaintance from his past, one Isabel Herne. She has seemingly fallen into the hands of a charming con-man, who has promised her the earth, including a very expensive racehorse. When the race-horse fails to materialize, and the man vanishes, she tasks Ludovic with finding the latter and, if possible, recovering her money. But what appears to be one kind of case soon plunges headlong into another - one of blackmail, black magic, a black sheep, and murder. Ludo will have to pit his wits against a desperate killer-and his wife Bernice will play an unexpectedly active part.
The Case of the Jumbo Sandwich was originally published in 1965. This new edition features an introduction by crime fiction historian Curtis Evans.