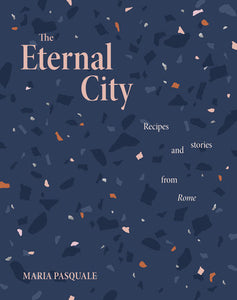 The Eternal City Recipes and Stories from Rome by Maria Pasquale
Regular price $35.00 Sale
Hardcover
Meet the people and recipes that make the city.

Discover Rome's incredible food through the city's stories and its people.

The Eternal City is a maze of winding cobblestone streets, where ancient history waits at every turn. Within these storied laneways, Rome's culinary traditions are honored and transformed by local chefs, pizza makers, cheesemongers, butchers, wine experts, bakers, and more – who make Rome one of the great food capitals of the world.

Visit the places where Romans eat every day, from the trattoria to the home kitchen, through the dishes that define these locations. With 70 recipes shared by iconic eateries, chefs, and Maria's family and friends, The Eternal City is a love letter to Rome that takes you past the monuments, and into the lives of modern-day Romans. This is an invitation to their tables. Embrace la dolce vita and pull up a chair.