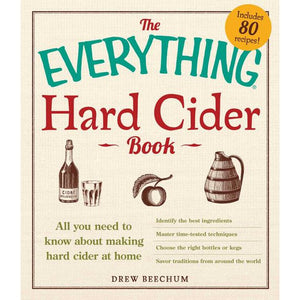 The Everything Hard Cider Book by Drew Beechum
Regular price $17.99 Sale
Paperback
Looking for a crisp, clean, and scrumptious alternative to beer? On a gluten-free diet or allergic to the grains used in brewing beer? Want to experience the pride that comes when your friends crack open one of your bottles and exclaim, You made this?
Then welcome to the world of hard cider. Suddenly it's everywhere--it's on the menu in pubs and restaurants, and there's a dizzying array of ciders available in stores. And some cider lovers, just like craft beer drinkers, are looking for ways to create their own brew.
The Everything Hard Cider Book
takes you step by step into the fermentation and bottling process, with tips on finding the proper equipment, sourcing ingredients, varying flavors, and creating unique packaging. You'll also find advice on advanced techniques, like evaluating the finished product, varying recipes for your own taste, and even growing fruit for cider.
And with thirty-five essential and adaptable recipes for apple and other fruit ciders, you'll find everything you need to make your own distinctive and delicious beverages.
Easy to brew, easy to customize, and enormously delicious!