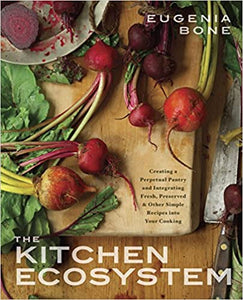 The Kitchen Ecosystem Integrating Recipes To Create Delicious Meals by Eugenia Bone
Regular price $16.00 Sale
Paperback
Paradigm-shifting, The Kitchen Ecosystem will change how we think about food and cooking. Designed to to create and use ingredients that maximize flavor, these 400 recipes are derived from 40 common ingredients--from asparagus to fish to zucchini--used at each stage of its "life cycle": fresh, preserved, and in a main dish.

Seasoned cooks know that the secret to great meals is this: the more you cook, the less you actually have to do to produce a delicious meal. The trick is to approach cooking as a continuum, where each meal draws on elements from a previous one and provides the building blocks for another. That synchronicity is a kitchen ecosystem.

For the farmers market regular as well as a bulk shopper, for everyday home cooks and aspirational ones, a kitchen ecosystem starts with cooking the freshest in-season ingredients available, preserving some to use in future recipes, and harnessing leftover components for other dishes. In The Kitchen Ecosystem, Eugenia Bone spins multiple dishes from single ingredients: homemade ricotta stars in a pasta dish while the leftover whey is used to braise pork loin; marinated peppers are tossed with shrimp one night and another evening chicken thighs and breast simmer in that leftover marinade. The bones left from a roast chicken bear just enough stock to make stracciatella for two.  The small steps in creating "supporting ingredients" actually saves time when it comes to putting together dinner.

Delicious food is not only a matter exceptional recipes—although there are an abundance of those here. Rather, it is a matter of approaching the kitchen as a system of connected foods. The Kitchen Ecosystem changes the paradigm of how we cook, and in doing so,  it may change everything about the way we eat today.