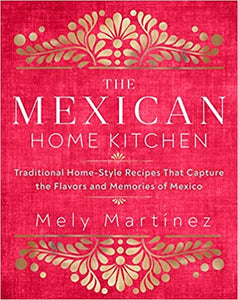 The Mexican Home Kitchen Traditional Home-Style Recipes That Capture the Flavors and Memories of Mexico by Mely Martinez
Regular price $28.00 Sale
Hardcover
The long-awaited, bestselling cookbook from Mely Martínez, The Mexican Home Kitchen compiles the traditional home-style dishes enjoyed every day in Mexican households, with influences from states like Tamaulipas, Nuevo León, Veracruz, Puebla, Estado de México, and Yucatán.

* Named One of Fall's Best Cookbooks by Eater, Epicurious, and Chowhound *

Illustrated with stunning photography, this book includes recipes for stews, soups, and side dishes, along with famous dishes like mole, enchiladas, picadillo, and milanesa, and is rounded out with delicious salsas, drinks, and desserts.

For Mely Martínez, Mexican cooking has always been about family, community, and tradition. Born and raised in Tampico, Mely started helping in the kitchen at a very young age, since she was the oldest daughter of eight children, and spent summers at her grandmother's farm in the state of Veracruz, where part of the daily activities included helping grind the corn to make masa.

Mely started her popular blog, Mexico in My Kitchen, to share the recipes and memories of her home so that her son can someday recreate and share these dishes with his own family. In the meantime, it has become the go-to source for those looking for authentic home-style Mexican cooking.

Recreate these favorite comfort foods using inexpensive, easy-to-find ingredients:
Caldo de Pollo (Mexican chicken soup)
Tacos de Bistec (steak tacos)
Carnitas (tender, crispy pork)
Albondigas (Mexican meatballs)
Tamales (both savory and sweet)
Enchiladas (both red and green sauces)
Mole Poblano (one of the most classic and popular moles)
Nopales (recipes made with cactus paddles)
Empanadas (beef and cheese filled)
Chiles Rellenos (stuffed and fried poblano peppers)
Pozole (both red and green versions)
Camarones en Chipotle (deviled shrimp)
Salsa Taquera (salsa for tacos)
Pastel de Tres Leches (a luscious and moist cake that's a Mexican favorite)
Buñuelos (crispy dough fritters coated in sugar)
Aguas Frescas (horchata, hibiscus, and tamarind flavors)
and much more!
Complete with easy-to-follow instructions, beautiful images, and stories from Mexico, along with recipes for making corn and flour tortillas and tips for stocking your pantry, The Mexican Home Kitchen will have you enjoying this delicious cooking right in your own home.