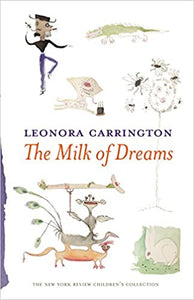 The Milk of Dreams by Leonora Carrington
Regular price $17.95 Sale
Hardcover
In English for the first time, a wild and darkly funny book that combines Surrealist painter Leonora Carringon's fantastical writing and illustrations for children

The maverick surrealist Leonora Carrington was an extraordinary painter and storyteller who loved to make up stories and draw pictures for her children. She lived much of her life in Mexico, and her sons remember sitting in a big room whose walls were covered with images of wondrous creatures, towering mountains, and ferocious vegetation while she told fabulous and funny tales. That room was later whitewashed, but some of its wonders were preserved in the little notebook that Carrington called  The Milk of Dreams. 

John, who has wings for ears, Humbert the Beautiful, an insufferable kid who befriends a crocodile and grows more insufferable yet, and the awesome Janzamajoria are all to be encountered in The Milk of Dreams, a book that is as unlikely, outrageous, and dreamy as dreams themselves.