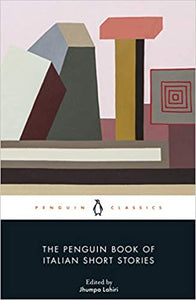 The Penguin Book of Italian Short Stories by Jhumpa Lahiri
Regular price $18.00 Sale
Paperback
When Jhumpa Lahiri decided to read exclusively in Italian, a language she had studied for many years, her life as a reader--and writer--took a surprising turn. Complete immersion in this rich literary heritage brought fresh insight and
unexpected freedom.

This collection brings together forty writers who have shaped her love of the Italian language and profound appreciation for its literature. More than half of the stories featured in this volume have been translated into English for the first time, and the wide-ranging selection includes well-known authors such as Italo Calvino, Elsa Morante, and Luigi Pirandello alongside many captivating rediscoveries.

Poets, journalists, visual artists, musicians, editors, critics, teachers, scientists, politicians, translators: the writers that inhabit these pages represent a dynamic cross-section of Italian society. Together they reflect more than a hundred years of Italy's vibrant and diverse short-story tradition, their powerful voices resonating through regional landscapes, private passions, and the dramatic political events of the twentieth century.