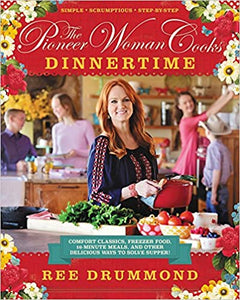 The Pioneer Woman Cooks Dinnertime by Ree Drummond
Regular price $13.00 Sale
Hardcover
The #1 bestselling author and Food Network personality at last answers that age-old question―"What's for Dinner?"―bringing together more than 125 simple, scrumptious, step-by-step recipes for delicious dinners the whole family will love.
For families juggling school, work, and a host of other time-consuming daily obligations, the idea of making dinner from scratch can be daunting. Ree Drummond makes it easy for families to make simple, scrumptious, homemade meals with minimum fuss and maximum enjoyment. The Pioneer Woman Cooks: Dinnertime includes delicious, easy-to-make recipes for comfort classics, 16-minute meals, freezer-friendly food, as well as soups, main dish salads, and a favorite of her own family: breakfast for dinner.
You'll find more than 125 fast-and-delicious recipes that combine pantry staples with fresh ingredients, including Beef Stroganoff, Chicken Taco Salad, Pasta Puttanesca, Ready-to-go freezer Meatballs (and many dinners you can make with them!), Oven Barbecue Chicken, Mexican Tortilla Casserole, Veggie Chili, Beef with Snow Peas, and many, many more. Included is a section of mouthwatering quick desserts―literally the icing on the cake. Filled with Ree's signature step-by-step photos, relatable humor, and irresistible, folksy charm, The Pioneer Woman Cooks: Dinnertime is the go-to cookbook every home cook can rely on for any―and every―night of the week.