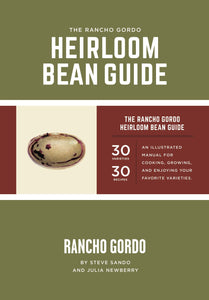 The Rancho Gordo Heirloom Bean Guide by Steve Sando and Julia Newberry
Regular price $25.95 Sale
Steve Sando founded Rancho Gordo with the simple idea that saving our New World foods is a critical pursuit, and his passion for heirloom beans has made his business a huge success. Sando's beans are sought after by famous chefs like Thomas Keller (Vallarta is his favorite), and he's frequently profiled in publications such as 
Bon Appetit, Saveur
, and the 
New York Times
.
In 
The Rancho Gordo Heirloom Bean Grower's Guide
, Sando invites the gardener and home cook to share his passion, profiling the fifty best beans to grow, cook, and save. From the silky flavor of Good Mother Stallard to the buttery Runner Cannellinis, the most delicious varieties are presented in these pages along with growing tips, flavor notes, stories of their heritage, and beautiful photographs that showcase the unique beauty of each bean.
In reintroducing the best of the New World heirloom beans, Sando has created a sensation, and food-lovers everywhere will relish transforming this humble staple into a celebrated delicacy.