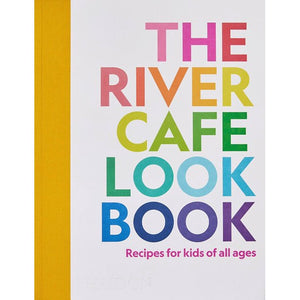 The River Cafe Look Book: Recipes for Kids of All Ages by Ruth Rogers, Sian Wyn Owen, Joseph Trivelli, and Matthew Donaldson
Regular price $34.95 Sale
Paperback
The first cookbook from London's iconic River Cafe written with beginner cooks and children in mind - a collection of more than 50 delicious and easily achievable recipes, including a host of River Cafe classics that have been specially adapted for new cooks
This highly anticipated cookbook is more accessible than any other to have come from the kitchen of Ruth Rogers' legendary Michelin-star restaurant The River Cafe, set on the banks of the Thames in London.
With more than 50 iconic recipes, each of which has been masterfully adapted and revised by the River Cafe chefs specifically for those new to cooking, the fabulous dishes in this collection bring the warmth, beauty, and sumptuous ease of Italian family home-cooking to cooks of all levels of kitchen expertise - including your kids!
The vivid and playful pages of this witty and innovative book showcase garden-fresh meals such as Smashed Broad Bean Bruschetta, Fusilli Zucchini, and Raspberry Sorbet, along with new versions of River Cafe classics, including a delectable lemon tart, a luxurious chocolate torte, and tasty pesto.
The intriguing and inspirational images that open this book encourage readers to connect the food they will cook with the world around them in new and sometimes surprising ways. Part look-book, part cookbook, this sure-fire bestseller encourages kids of all ages to connect with food and achieve great results - with The River Cafe as their teacher and inspirational guide.