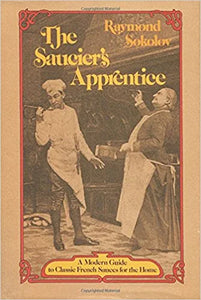 The Saucier's Apprentice: A Modern Guide to Classic French Sauces for the Home by Raymond Sokolov
Regular price $35.00 Sale
Hardcover
Here is the first book all the great sauces of practical, workable system. Raymond Sokolov, the widely admired former Food Editor of The first to point out that the hitherto mysterious saucier's art, as practiced by the best restaurant chefs, is based on what amounts to an elegant "fast food" technique. And this is what he demonstrates in his unique, useful, and witty book:
-- How to prepare, at your leisure, the three fundamental classic sauces (the "mother" sauces from which all others evolve: Brown, White, and Fish Veloute)...
-- How to freeze them in one-meal-size containers, ready for use at a moment's notice...
-- How to transform any of these basic put-away sauces, quickly and easily, into the exact ones that French chefs are famous for and serve in the finest restaurants...
-- How to prepare the classic dish for which each sauce is traditionally used, with suggestions for enhancing simpler fare (the recipes run the gamut from Duckling a la Bigarade to Poached Eggs Petit-Duc -- that is, with Chateaubriand Sauce).

Mr. Sokolov has conceived, then, a comprehensive collection of recipes -- authoritative, clear, and easy to follow -- as well as an inventive method of cooking for the average kitchen. Peppered with culinary lore and with reassuring accounts of the author's own experiences as a modern-day Saucier's Apprentice, here is a book that will appeal to every good amateur cook who wants to produce sumptuous fare at home for occasions great and small.