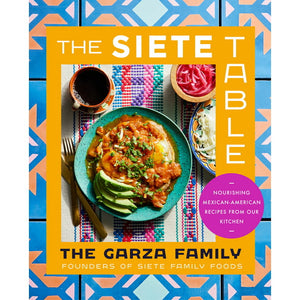 The Siete Table by the Garza Family
Regular price $35.00 Sale
Hardcover
From the Garza family, creators of Siete Family Foods brand, comes this flavorful collection of nourishing Mexican-American recipes.
When the Garza family began experimenting with making grain-free tortillas eight years ago to support the dietary needs of a family member, they could never have imagined how many lives they would touch. Today, Siete Family Foods brings Mexican-American foods into kitchens across the country. And now, with their first cookbook, the Garzas are excited to share the beloved family recipes and traditions that inspire their best selling products.
In The Siete Table, the Garzas share more than 100 delicious gluten-free Mexican-American dishes that span every course and occasion. Both Mexican food aficionados and health-conscious eaters will find plenty to love, since each dish can be made dairy-free and many can be adjusted to be vegetarian or vegan, so there's something for everyone. From Shrimp Tostadas to Enchiladas Suizas, Barbacoa to Vegan Chorizo, Chiles Toreados to Salsa Cruda, and Churros to Passion Fruit Margaritas, the recipes in this book are versatile and meant to be shared, savored, and celebrated with loved ones.
Rooted in the inspiring story of one family's innovation and collaborative success, The Siete Table is a true reflection of the intersections of food and culture, wellness and tradition--with love of family at its center.
¡Buen provecho!