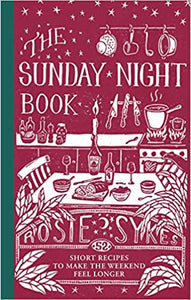 The Sunday Night Book by Rosie Sykes
Regular price $19.99 Sale
Hardcover
Rosie is one of the great cooks of our time – so humble, brilliant ideas, wonderful cooking and writing you want to read over and over again...
Rosie cooks the food you want to eat all the time – unpretentious and delicious' Angela Hartnett

Make Sunday night the best evening of the week, by perfecting the last, lazy meal of the weekend. Most of us want to forget that back-to-school feeling by kicking off our shoes and hunkering down with a soul-soaring supper – one that can be eaten with friends at the table, with book in hand by the fire, or in front of the TV.

In less than half an hour of cheerful cooking, you can achieve Sunday night nirvana. Chef Rosie Sykes is an expert in the most comforting, nostalgic and heart-warming recipes, and here she gathers more than 50 of her greatest creations, most of them achievable in the time it takes to run a bath. Rosie makes Things on Toast that will make you weep with joy: Anchovy toasts with parsley and shallot salad, or Caerphilly with leeks and mustard; one-pot dishes to stop and savor, such as Stewed spiced butterbeans with tortillas and feta.

All the recipes in The Sunday Night Book are simple and make clever use of store cupboard staples and leftovers. This is truly the best kind of cooking, the perfect way to extend the weekend and drift relaxed and contented into a new week.