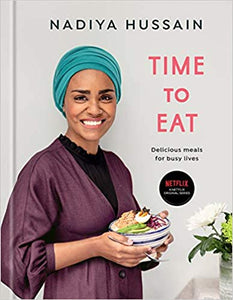 Time To Eat Delicious Meals For Busy Lives by Nadiya Hussain
Regular price $29.99 Sale
Hardcover
From the host of the beloved Netflix series Time to Eat and winner of The Great British Baking Show come over 100 time-smart recipes to tackle family mealtime.

Nadiya Hussain knows that feeding a family and juggling a full work load can be challenging. Time to Eat solves mealtime on weeknights and busy days with quick and easy recipes that the whole family will love. Nadiya shares all her tips and tricks for making meal prep as simple as possible, including ideas for repurposing leftovers and components of dishes into new recipes, creating second meals to keep in the freezer, and using shortcuts--like frozen foods--to cut your prep time significantly.

In Time to Eat, Nadiya teaches you to make recipes from her hit Netflix show, including Peanut Butter & Jelly Traybake, Instant Noodles, Egg Rolls, and zesty Marmalade Haddock. Each recipe also notes exactly how long it will take to prepare and cook, making planning easy. Helpful icons identify which recipes can be made ahead, which ones are freezer-friendly, and which ones can be easily doubled.