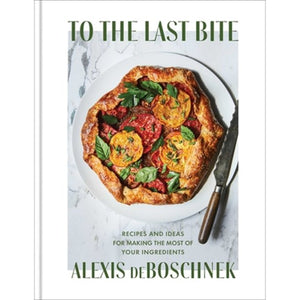 To the Last Bite by Alexis deBoschnek
Regular price $32.50 Sale
Hardcover
Learn to cook resourcefully, efficiently, and, of course, deliciously, by using all of your ingredients--down to the rind, stem, and bone--with these 100 creative recipes from the star of

 

BuzzFeed

 

Tasty's

 

Chef Out of Water.

 

Cutting back on food waste continues to be one of the most effective ways we can combat climate change. But when recipes only call for a small portion of an ingredient, what do we do with the remainder? Alexis deBoschnek has the answer.

 

Growing up, Alexis spent hours tending to her mother's garden in the Catskill Mountains, coming back to the kitchen with apples, zucchinis, peas, and every herb under the sun. From slowly cooking tomatoes for sauce, drying fresh herbs, or infusing oil with the garden's aromatics, to pickling cucumbers by the dozen, Alexis learned how to make every ingredient last.

 

With

 

To the Last Bite

, she shares her lifetime of knowledge to ensure nothing goes to waste. Buy a whole chicken for Alexis's juicy, delicious Spatchcock Paprika Chicken with Carrots and save the bones for a stock, which you can add to braised leeks with white wine and thyme. Her Greens Skillet Pie uses any herbs you haven't gotten around to in the crisper drawer. All the recipes in this book are designed to use the entire ingredient to save you money and cut back on food waste.

 

Packed with stories and strategies to help you choose your ingredients wisely and use them well, this cookbook teaches you how to cook creatively, resourcefully, and, most importantly, deliciously.