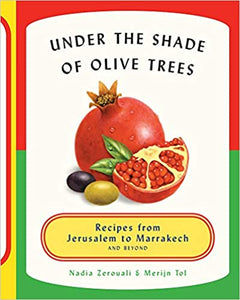 Under the Shade of Olive Trees: Recipes from Jerusalem to Marrakech and Beyond by Nadia Zerouali and Merjin Tol
Regular price $10.00 Sale
Hardcover
Dutch writers and cooks Nadia Zerouali and Merijn Tol are in love with the culture and foods of the Mediterranean-Arabian world. They set out on a journey that took them across Morocco and Tunisia, Syria and Lebanon, Sicily and Spain, to experience the rich, exotic flavors of the Middle East. Here, they unpack the secrets to the region's healthful and intensely flavorful food. They teach the reader about the ingredients—from orange blossom and honey to coriander and argan oil—and how to use them to maximize taste.
The region's food is alive with color, as illustrated by the luscious photographs that accompany the more than 100 recipes. But it is the taste and texture of the foods that will win readers' hearts: creamy labne, sweet pomegranate, flaky filo pastry, silky hummus. There are whole grains, such as simple summer bulgur salads and vegetable couscous, and tricks for preparing meat to be as flavorful as possible. Easy enough for cooking novices,
Under the Shade of Olive Trees
will transport readers to a magical, delicious region of the world.