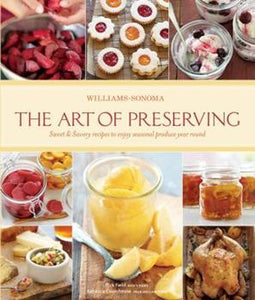 Williams-Sonoma: The Art of Preserving by Rick Field and Rebecca Courchesne
Regular price $12.00 Sale
Hardcover
Preserving is a great way to make the most of fresh fruits and vegetables, and it creates easy yet meaningful gifts. Those familiar with the technique, along with beginners looking to learn more, will appreciate this comprehensive and contemporary approach to preserving the wealth of seasonal produce from backyard gardens and markets.
Can't resist that flat of fresh berries? What to make with a bumper crop of tomatoes? Have a penchant for pickles?
Featuring everything you need to know to put up the seasons' bounty, Williams-Sonoma 
The Art of Preserving
 illuminates how to savor your favorite fresh produce year-round. From beginners looking to learn, to those familiar with the technique, everyone will appreciate this contemporary and comprehensive approach to preserving the wealth of fruits and vegetables from backyard gardens and farmers' markets.
Packed with inspiring recipes for preserves, from Apricot Jam to Pickled Fennel with Orange Zest to Preserved Lemons, this title provides a wealth of ideas for making the most of the harvest. Additional recipes showcase the many ways that preserved foods can be used in finished dishes, from savory starters to flavorful main courses to sweet desserts.
Lush photography celebrates the natural beauty of seasonal produce, while step-by-step instruction and helpful tips from professionals offer all the guidance you need to become a preserving expert.
From luscious jams and jellies to savory pickles and relishes, make the most of garden-fresh fruits and vegetables through preserving. With over 130 recipes, step-by-step techniques, helpful tips from professionals, and scores of inspiring ideas for ways to use preserves in other recipes, this comprehensive cookbook provides everything you need to master the art in your own kitchen.