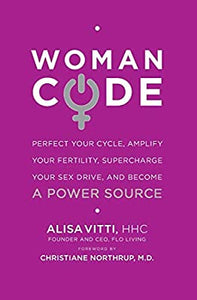 Woman Code by Alisa Vitti
Regular price $10.00 Sale
Paperback
A holistic health coach helps you rebalance your hormones, create easier periods, preserve your fertility, and revitalize your sex drive.
Alisa Vitti will teach you how to support the chemical conversation of your entire endocrine system, from your head to your ovaries. With a few easy strategies and changes to your diet and lifestyle, you can not only solve hormone-related problems, but have the energy, mental focus, and stable moods to be your best self. Simply put, once you support the flow of your hormones, you create flow in your life.
In WomanCode, you will learn how to connect the dots between your symptoms, your biochemistry, and food. This prescriptive program over the past decade has successfully helped thousands of women regulate their periods, clear up their skin, lose weight, alleviate PMS, get pregnant naturally, have more successful IVF, restore their energy, improve their moods, and have better sex. Vitti's revolutionary five-step program gives you the insight and tools you need to:
Work in harmony with your body's natural rhythms

Minimize the impact of toxins in the environment, your diet, and the products that you use

Target and support the parts of your endocrine function (blood sugar, adrenals, elimination, or reproduction) that need attention

tap into the immensely transformative power of your feminine energy
Passionately and strategically, the WomanCode protocol gives women from their teenage years to perimenopause the keys to unlock their hormone health. Giving a brain to ovaries explanation of what is going on inside your endocrine system, Vitti can help your whole body thrive. Now that you have turned on your healing power, you are better able to power up your purpose in life. If we're in the flow of our internal rhythm, we'll also attract effortless opportunities, enjoy moments of creative expression, and connect intimately with others - that's when we're in the flow of our power, our life-force energy, and our fullest potential.