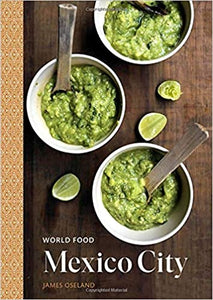 World Food Mexico City by James Oseland
Regular price $26.00 Sale
Hardcover
Introducing World Food, an exceptional new cookbook series in the classic tradition, taking readers on a journey to the world's greatest cuisines and the remarkable cultures they come from.

Whether you're an absolute beginner at Mexican cooking or already a pro, World Food: Mexico City is for you. This definitive and beautiful user's guide unlocks the secrets to real Mexican cuisine with more than fifty authentic, reliable recipes, while the compelling stories and photography tell the tale of the vibrant culinary capital of Latin America. You'll be taken to home kitchens, markets, and restaurants, where you'll get to know exemplary local cooks and learn how to master Mexican culinary traditions and techniques.
 
Every recipe—from the vivid salsa with pan-roasted tomatoes to the soul-satisfying pork stew with corn, potatoes, and green beans—provides a cook's-eye lens into real Mexico City culture. Explore easy party food such as authentic guacamole and homemade tortilla chips; satisfying first courses such as cantina-style garlic soup and beer-infused "drunken" rice; or slow-cooked masterpieces such as Mexican-style stewed zucchini. Learn how to make family-friendly meals including ancho chiles stuffed with cheese, as well as standouts such as fall-apart tender roasted lamb with pasilla chiles, or tuna tostada garnished with chipotle mayonnaise and avocado—a modern classic from the beloved restaurant Contramar.
 
With more than 150 photographs and a comprehensive illustrated reference chapter that tells you how to find, use, and store all the necessary ingredients, from cilantro to Mexican cheeses, World Food: Mexico City satisfies an appetite for new recipes, new ways to cook, and a new way of understanding one of the most exciting food destinations on the planet.