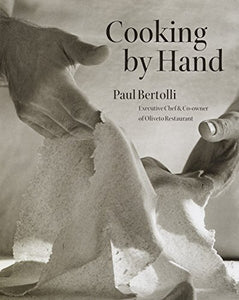 Cooking by Hand by Paul Bertolli
Regular price $40.00 Sale
Hardcover
One of the most respected chefs in the country, Paul Bertolli earns glowing praise for the food at California's renowned Oliveto restaurant. Now he shares his most personal thoughts about cooking in his long-awaited book, Cooking by Hand. In this groundbreaking collection of essays and recipes, Bertolli evocatively explores the philosophy behind the food that Molly O'Neill of the New York Times described as "deceptively simple, [with] favors clean, deep, and layered more profusely than a mille-feuille."

From "Twelve Ways of Looking at Tomatoes" to Italian salumi in "The Whole Hog," Bertolli explores his favorite foods with the vividness of a natural writer and the instincts of a superlative chef. Scattered throughout are more than 140 recipes remarkable for their clarity, simplicity, and seductive appeal, from Salad of Bitter Greens, Walnuts, Tesa, and Parmigiano and Chilled Shellfish with Salsa Verde to Short Ribs Agrodolce and Tagliolini Pasta with Crab. Unforgettable desserts, such as Semifreddo of Peaches and Mascarpone and Hazelnut Meringata with Chocolate and Espresso Sauce, round out a collection that's destined to become required reading for any food lover.

Rich with the remarkable food memories that inspire him, from the taste of ripe Santa Rosa plums and the aroma of dried porcini mushrooms in his mother's ragu to eating grilled bistecca alla Fiorentina on a foggy late autumn day in Chianti, Cooking by Hand will ignite a passion within you to become more creatively involved in the food you cook.