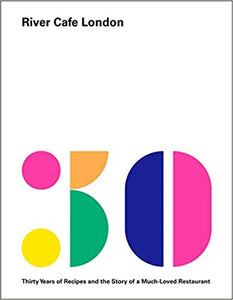 River Cafe London Thirty Years by Ruth Rogers Rose Gray
Regular price $40.00 Sale
Hardcover
A stunning Italian cookbook collecting 120 recipes from the legendary restaurant that sets "the benchmark for Italian food outside of Italy" (Eater).

At the River Cafe in London, Ruth Rogers and her co-founder, Rose Gray, helped to shape the way we eat, trained a new generation of chefs, and, with their best-selling cookbooks, transformed the way we prepare Italian food at home.

Now, with River Cafe London, Ruth and her restaurant's head chefs, Joseph Trivelli and Sian Wyn Owen, invite you to join them in marking thirty years of memories and good food—the simple, high-quality Italian cooking that River Cafe has been providing since 1987. 

Here are 120 recipes for incomparable antipasti, primi, secondi, contorni, and dolci—both revised and updated favorites from Ruth and Rose's first cookbook, as well as thirty new classics from their menus today: Ravioli with Ricotta, Raw Tomato, and Basil; Spaghetti with Lemon; Risotto Nero with Swiss Chard; Pork Braised with Vinegar; and, of course, their famous Chocolate Nemesis cake.

River Cafe London also incorporates Ruth's memories of the restaurant's storied history and of its founding: unseen archive images; careful cooking tips and hand-drawn illustrations; new photography by Jean Pigozzi and Matthew Donaldson; and bespoke menu designs from the restaurant's many artist friends.

This beautiful cookbook encapsulates the essence of the restaurant and its food—and is a must-have for all food lovers to cook from time and again.