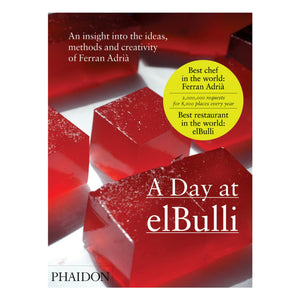 A Day At elBulli An Insight Into the Ideas, Methods and Creativity of Ferran Adria by Ferran Adria, Juli Soler, and Albert Adria
Regular price $35.00 Sale
Paperback
For the first time, A Day at elBulli: An Insight into the Ideas, Methods and Creativity of Ferran Adria allows unprecedented access to one of the world's most famous, sought-after and mysterious restaurants. Having held three Michelin stars since 1997, and regularly voted 'Best Restaurant in the World' by a panel of 500 industry professionals, elBulli has been at the very forefront of the restaurant scene since Ferran Adria became sole head chef in 1987.

Aimed at food enthusiasts as well as industry professionals, the book documents all the activities and processes that make up just one day of service with stunning colour photography of the kitchens, staff, creative workshop, dishes, the restaurant itself and its striking surroundings near the town of Roses, north east of Barcelona. The book starts with daybreak at 6.15 am, then shows visits to the local markets to source ingredients from 7.00 am, Ferran's arrival at the workshop, his morning creative experimentation session, the arrival of the rest of the brigade at 2.3 0 pm to begin the mise-en-place for the evening, the preparations of each guest's menu, the daily tasks of the front of house team, and the arrival of the first guests for dinner from 7.45 pm until the last guests' departure by 2.00 am.

The menu is fully explained with detailed and technical recipes that reveal the full extent of the chefs' artistry. Innovative text inserts open the lid on the history of elBulli and Ferran Adria, the creative methods, the secret workshops, the technical processes behind the creation of a dish, the network of sensations and interactions that take place between a restaurant and its guests and the sensory experiences of eating, as well as the formidable reservations procedure and the structure of a meal into four theatrical 'acts'.

A Day at elBulli: An Insight into the Ideas, Methods and Creativity of Ferran Adria allows all lovers of good food to experience this spectacular restaurant to the full.