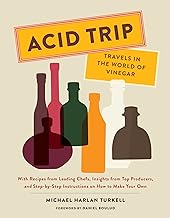 Acid Trip Travels in the World of Vinegar by Michael Harlan Turkell
Regular price $29.99 Sale
Hardcover
The renowned food photographer explores the world of vinegar in this globe-hopping volume with recipes from Daniel Boulud, April Bloomfield and others.

An avid maker of vinegars at home, Michael Harlan Turkell traveled throughout North America, France, Italy, Austria, and Japan to learn about vinegar-making practices in places where the art has evolved over centuries. In Acid Trip, he invites readers along on the journey.

This richly narrated cookbook includes recipes from leading chefs including Daniel Boulud, Barbara Lynch, Michael Anthony, April Bloomfield, Massimo Bottura, Sean Brock, and many others. Dishes range from simple to sophisticated and include Fried Eggs with a Spoonful of Vinegar, Sweet & Sour Peppers, Balsamic Barbecued Ribs, Poulet au Vinaigre, Tomato Tarragon Shrub, and even Vinegar Pie.

Turkell also details methods for making your own vinegars with bases as varied as wine, rice, apple cider, and honey. Featuring lush color photographs by the author, Acid Trip is a captivating story of culinary obsession and an indispensable reference for creative home chefs.