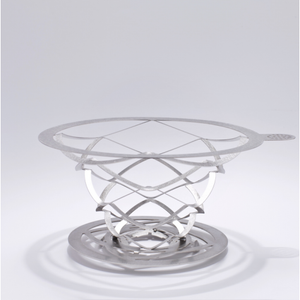 AltoAir Pour Over Coffee Brewer
Regular price $60.00 Sale
Bario Alto has a completely new vision how to make pour over coffee, changing the rules of coffee brewing in depth. According to Barrio Alto you can get some amazing results if the paper filter does not stick to the dripper. In this way it is prevented to block the outlet the free of a coffee from a filter. It is known that it is usual for the filter to stick to the coffee dripper, once it gets wet This fact makes it impossible to control the flow of coffee and makes it very difficult to achieve a consistent extraction.
To solve this problem AltoAir decides to remove the walls completely. In this way the coffee filter rests solely on a minimal structure and is almost completely surrounded by air. This saying is patented by Barrio Alto and allows the flow to have no restriction. Is a perfect way to get very consistent extraction every time.
AltoAir Coffee brewer can be used with your corresponding jar or directly in your coffee cup can actually be used and with other jars to enjoy consistent and unhindered . To make coffee for more than one person you can use with Bairro Alto Conical Coffee Flask what is a elegant way to amaze your friends.
Please do not try to bend or collapse the AltoAir is not designed for this.
The AltoAir™ coffee brewer is compatible with V60 size 02 and Chemex filters.
AltoAir™ coffee dripper is made from 100% dishwasher safe stainless steel. These items are final sale.