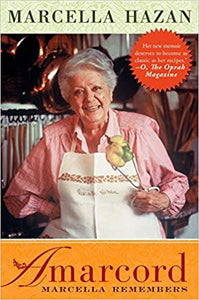 Amarcord Marcella Remembers by Marcella Hazan
Regular price $16.00 Sale
Paperback
Beloved teacher and bestselling cookbook author Marcella Hazan tells how a young girl raised in Emilia-Romagna became America?s godmother of Italian cooking 

Widely credited with introducing proper Italian food to the English-speaking world, Marcella Hazan is as authentic as they come. Raised in Cesenatico, a quiet fishing town on the northern Adriatic Sea, she?s eventually have her own cooking schools in New York, Bologna, and Venice and teach students from around the world to appreciate and produce the food that native Italians eat. She?d write bestselling and award-winning cookbooks, collect invitations to cook at top restaurants, and have thousands of loyal students and readers. 

When Marcella met the love of her life, Victor, they married and moved to New York City. She knew not a word of English or?what?s more surprising?a single recipe. She longed for the flavors of her homeland and attempted to re-create them. One day Craig Claiborne invited himself to lunch, and the rest is history. 

Amarcord means ?I remember? in Marcella?s native Romagnolo dialect. In these pages, Marcella looks back on the adventures of a life lived for pleasure and a love of teaching. Throughout, she entertains the reader with stories of the twists and turns that brought her love, fame and a chance to change the way we eat forever.