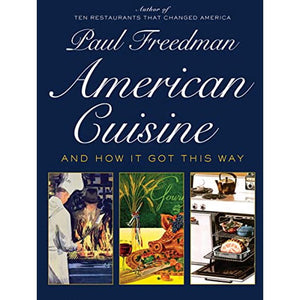 American Cuisine and How It Got This Way by Paul Freedman
Regular price $39.95 Sale
Hardcover
For centuries, skeptical foreigners-and even millions of Americans-have believed there was no such thing as American cuisine. In recent decades, hamburgers, hot dogs, and pizza have been thought to define the nations palate. Not so, says food historian Paul Freedman, who demonstrates that there is an exuberant and diverse, if not always coherent, American cuisine that reflects the history of the nation itself.
Combining historical rigor and culinary passion, Freedman underscores three recurrent themes-regionality, standardization, and variety-that shape a completely novel history of the United States.
From the colonial period until after the Civil War, there was a patchwork of regional cooking styles that produced local standouts, such as gumbo from southern Louisiana, or clam chowder from New England. Later, this kind of regional identity was manipulated for historical effect, as in Southern cookbooks that mythologized gracious 'plantation hospitality,' rendering invisible the African Americans who originated much of the regions food.
As the industrial revolution produced rapid changes in every sphere of life, the American palate dramatically shifted from local to processed. A new urban class clamored for convenient, modern meals and the freshness of regional cuisine disappeared, replaced by packaged and standardized products-such as canned peas, baloney, sliced white bread, and jarred baby food.
By the early twentieth century, the era of homogenized American food was in full swing. Bolstered by nutrition 'experts,' marketing consultants, and advertising executives, food companies convinced consumers that industrial food tasted fine and, more importantly, was convenient and nutritious. No group was more susceptible to the blandishments of advertisers than women, who were made feel that their husbands might stray if not satisfied with the meals provided at home. On the other hand, men wanted women to be svelte, sporty companions, not kitchen drudges. The solution companies offered was time-saving recipes using modern processed helpers. Men supposedly liked hearty food, while women were portrayed as fond of fussy, 'dainty,' colorful, but tasteless dishes-tuna salad sandwiches, multicolored Jell-O, or artificial crab toppings.
The 1970s saw the zenith of processed-food hegemony, but also the beginning of a food revolution in California. What became known as New American cuisine rejected the blandness of standardized food in favor of the actual taste and pleasure that seasonal, locally grown products provided. The result was a farm-to-table trend that continues to dominate.
A book to be savored , American Cuisine is also a repository of anecdotes that will delight food lovers: how dry cereal was created by William Kellogg for people with digestive and low-energy problems; that chicken Parmesan, the beloved Italian favorite, is actually an American invention; and that Florida Key lime pie goes back only to the 1940s and was based on a recipe developed by Bordens condensed milk. More emphatically, Freedman shows that American cuisine would be nowhere without the constant influx of immigrants, who have popularized everything from tacos to sushi rolls.
Impeccably researched, intellectually satisfying, and hugely readable,  American Cuisine is a landmark work that sheds astonishing light on a history most of us thought we never had.