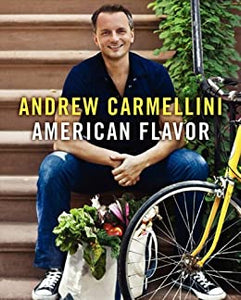 American Flavor by Andrew Carmellini
Regular price $22.00 Sale
Hardcover
Andrew Carmellini, two-time James Beard Award winner, acclaimed author of Urban Italian, and executive chef–owner of the hit New York City restaurants Locanda Verde and The Dutch, takes readers on a wonderfully rich and diverse tour through the ingredients and cuisines that constitute American flavor
For most of his life, Andrew Carmellini has been hitting the road, tasting the best of American flavors. Whether on childhood trips escaping from the hard-bitten winters of Ohio to sunny Florida and its fresh citrus fruit, cross-country trips in pursuit of the Great American Breakfast, or five-meal-a-day swings through barbecue country, he absorbed everything he could about regional cooking, American-style, at every stop.
In American Flavor, Carmellini shares the lessons of his culinary life on the road in recipes and stories that get at the soul of how we eat today. Using the traditional regional foodways and the multicultural neighborhoods, global eateries, and ethnic groceries that dot the American landscape as his inspiration, he introduces delectable, enticing dishes that deliver maximum impact yet are surprisingly simple to make. In the book, you'll find cheese pierogies inspired by the Polish church ladies of Carmellini's native Cleveland right next to his take on savory-sweet barbecued beef short ribs from L.A.'s Korea Town; seriously smoky southwestern mole alongside savory lamb stew that takes its flavors from Astoria, the historically Greek neighborhood in Queens, New York. Every recipe reflects Carmellini's laid-back style, midwestern roots, big-city palate, and dedication to great ingredients and serious flavor.
Along with the recipes are true-life tales of Carmellini's crazy culinary travels across America, into Canada, and even to Europe. Whether he's hunting ramps with the locals during an extern summer at a Virginia mountain resort or sampling some of the surprising off-menu specials at a hippie café in Vancouver, British Columbia, these hilarious, engaging stories tell the tale of the education of an American chef inside the kitchen—and out.
Entertaining and inspiring, American Flavor is a book that readers will turn to again and again, not only for special occasions and everyday meals, but also as a portrait of real American food in the twenty-first century: sophisticated but down-to-earth, rustic but refined, and always deeply flavored and delicious.