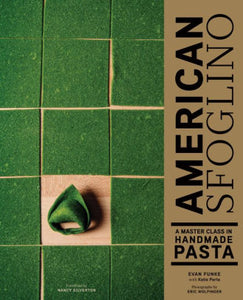 American Sfoglino A Master Class in Handmade Pasta by Evan Funke
Regular price $35.00 Sale
Hardcover
2020 James Beard Award Winner for Photography 

"Evan Funke's respect for tradition and detail makes American Sfoglino the perfect introduction to the fresh egg pastas of Emilia-Romagna. It's bold in its simplicity and focus." — Missy Robbins, chef/owner of Lilia and MISI 

2020 IACP Awards Finalist - Chefs & Restaurants
2020 IACP Awards Finalist - Food Photography & Styling 

A comprehensive guide to making the best pasta in the world: In this debut cookbook from Evan Funke, he shares classic techniques from his Emilia-Romagna training and provides accessible instructions for making his award-winning sfoglia (sheet pasta) at home. With little more than flour, eggs, and a rolling pin, you too can be a sfoglino (a pasta maker) and create traditional Italian noodles that are perfectly paired with the right sauces.

Features recipes for home cooks to recreate 15 classic pasta shapes, spanning simple pappardelle to perfect tortelloni.

Beginning with four foundational doughs, American Sfoglino takes readers step by step through recipes for a variety of generous dishes, from essential sauces and broths, like Passata di Pomodoro (Tomato Sauce) and Brodo di Carne (Meat Broth) to luscious Tagliatelle in Bianco con Prosciutto (Tagliatelle with Bacon and Butter) and Lasagna Verde alla Bolognese (Green Bolognese Lasagna).

Includes stories from Italy and the kitchen at Felix Trattoria that add the finishing touches to this master class in pasta, while sumptuous photographs and a bold package offer a feast for the eyes.

Forget your pasta machine and indulge in the magic of being a sfoglino with the help of the rich imagery and detailed instructions provided by Evan Funke and American Sfoglino . 

Evan Funke is a master pasta maker and the chef-owner of Felix Trattoria in Venice, California.
Katie Parla is a food writer and IACP award-winning author whose work has appeared in numerous outlets, including the New York Times, Food & Wine, and Saveur . Eric Wolfinger is a James Beard Award-winning food photographer.

Makes an excellent gift idea for any pasta aficionado or avid Italian cook.