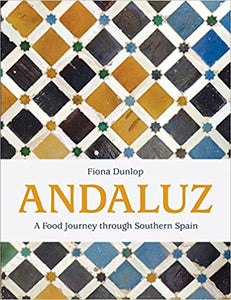 Andaluz: A Food Journey through Southern Spain by Fiona Dunlop
Regular price $18.00 Sale
Hardcover
For nearly eight centuries from 711 to 1492, Moorish rule in Andalucía brought about a revolution in Spanish culture, resulting in architectural splendors like the Alhambra as well as a rich culinary history. Andaluz is a quest to illustrate the legacy of the Arabs and Berbers in the kitchens of southern Spain today.

Couscous, rice, eggplant, oranges, apricots, marzipan, and a wealth of spices are just a few ever-present ingredients that owe their influence to the Moorish peoplealong with a meticulous attention to the cultivation of olive varieties that Andalucía is renowned for. By digging deep into traditional dishes, scouring markets, and learning from home cooks, local tavern owners, and Michelin-starred restaurant chefs, Fiona Dunlop offers a vivid gastronomic window on this region. Entries from the authors travel diary accompany sumptuous recipes from Granada in the east to Córdoba at its heart and Seville in the south bringing a taste of Moorish Spain to kitchens everywhere.

With beautiful food and location photography Andaluz is bound to become the cookbook you will visit time and time again.