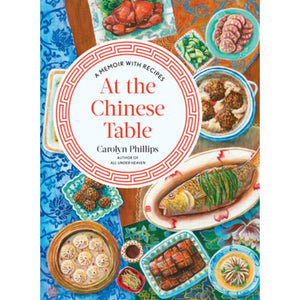 At the Chinese Table by Carolyn Phillips
Regular price $27.95 Sale
Hardcover
Part memoir of life in Taiwan, part love story a beautifully told account of China's brilliant cuisines . . . with recipes.
"Lucky for me, Taipei was in the midst of transforming itself into a food lover's paradise at the exact time I appeared on the scene." So begins Carolyn Phillips's journey as a language student in 1970s Taiwan that culminated with her becoming a traditional Chinese family's eldest daughter- in- law.
Through beguiling stories that stretch across four decades, she recalls how she fell in love with a man who seduced her with everything from simple homestyle meals to haute cuisine, from crabs stir-fried with clouds of scrambled eggs to lush braises that enticed and bewildered. As their relationship deepened and her language skills grew, she evolved into a cook who wrestled a pig's head into dinner, learned Hakka dishes from her reticent father-in-law, and, finally, wrote an award-winning cook-book.At the Chinese Tableis a culinary adventure studded with stunning line drawings and twenty-two recipes that celebrate a lifetime filled with extraordinary meals.