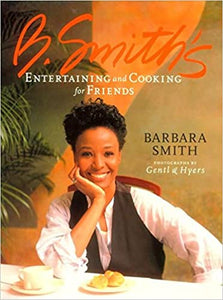 B. Smith's Entertaining and Cooking for Friends by Barbara Smith
Regular price $15.00 Sale
Hardcover
Barbara Smith, founding partner and creative genius behind B. Smith's restaurants in New York's theater district and Washington's Union Station, shares her stylish entertaining ideas and soul-satisfying recipes for every occasion in this delisiously fresh book, which addresses the entertaining style of a new generation.
From a Cocktail Party for Business and Pleasure to a Picnic on the Beach, Barbara Smith defines her approach to entertaining that--like her popular bistro--is cosmopolitan and elegant, yet casual and fun. She offers her favorite recipes, including Flash Roasted Salmon with Swiss Chard and Citrus Vinaigrette, Smothered Pork Chops, and Sweet Potato Pecan Pie with Praline Sauce.
With more than 75 photographs of party events, table settings, and finished food, B. Smith's Entertaining and Cooking for Friends will help us all chart the course for our next party.