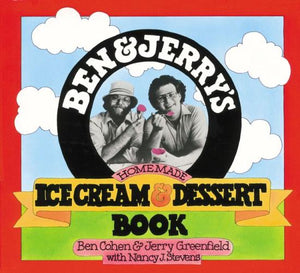 Ben & Jerry's Homemade Ice Cream & Dessert Book by Ben Cohen
Regular price $22.00 Sale
Paperback
MORE CHUNKS LESS BUNK
Despite a philosophical disagreement over chunk size-Ben prefers them large and occasional while Jerry favors frequent, somewhat smaller ones-together Ben and Jerry are good friends who make great ice cream.
Now they share all the recipes and techniques that have been made them nationwide heroes. Specially adapted to make at home, there are 90 recipes in all, including sorbets, summer slushes, giant sundaes and other ice-cream concoctions. All you have to do is remember Ben & Jerry's two rules of ice-cream making:
RULE #1
You don't have to be a pro to make incredibly delicious ice cream.
RULE #2
There's no such thing as an unredeemingly bad batch of homemade ice cream.
NEW FLAVORS TO TRY:
Orange Cream Dream
Chocolate Chip Cookie Dough
Honey Apple Raisin Walnut
Peanut Butter Fudge Swirl
Chocolate Superfudge Brownie
FLAVORS YOU KNOW AND LOVE:
Heath Bar Crunch
Dastardly Mash
Fresh Georgia Peach
Oreo Mint
BEN & JERRY REVEAL:
How to break Heath Bars into the perfect bite-size chunks.
How to add chunks so they don't sink to the bottom.