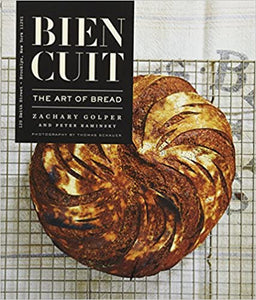 Bien Cuit by Zachary Golper
Regular price $25.00 Sale
Hardcover
Bien Cuit introduces a new approach to a proudly old-fashioned way of baking bread. In the oven of his Brooklyn bakery, Chef Zachary Golper creates loaves that are served in New York's top restaurants and sought by bread enthusiasts around the country. His secret: long, low-temperature fermentation, which allows the dough to develop deep, complex flavors. A thick mahogany-colored crust is his trademark—what the French call bien cuit, or "well baked." This signature style is the product of Golper's years as a journeyman baker, from his introduction to baking on an Oregon farm—where they made bread by candlelight at 1 a.m.—through top kitchens in America and Europe and, finally, into his own bakery in the heart of our country's modern artisanal food scene. 

Bien Cuit tells the story of Golper's ongoing quest to coax maximum flavor out of one of the world's oldest and simplest recipes. Readers and amateur bakers will reap the rewards of his curiosity and perfectionism in the form of fifty bread recipes that span the baking spectrum from rolls and quick breads to his famous 24-day sourdough starter. This book is an homage to tradition, but also to invention. Golper developed many new recipes for this book, including several "bread quests," in which he brilliantly revives some of New York City's most iconic breads (including Jewish rye, Sicilian lard bread, Kaiser rolls, and, of course, bagels). You will also find palate-pleasing and innovative "gastronomic breads" that showcase his chef's intuition and mastery of ingredients.

Golper's defining technique comes at a time when American home cooks are returning to tradition-tested cooking methods and championing the DIY movement. Golper's methods are relatively simple and easy to master, with recipes that require no modern equipment to make at home: just a bowl, an oven, and time—the dough does most of the work.