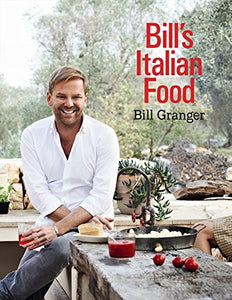 Bill's Italian Food by Bill Granger
Regular price $14.00 Sale
Hardcover
Bestselling TV cook Bill Granger brings his trademark fresh flavours and easy-going recipes to the well-loved food of Italy.
The cornerstone of Bill's cooking is also the cornerstone of the best of Italian cuisine: simple, flavoursome dishes with short ingredient lists and uncomplicated methods, centred on ingredients that are easy to find and needn't be expensive. And better yet, those ingredients don't have to just be tomato, mozzarella and basil, the usual suspects of Italian cooking, but neither do they need to be deli-sourced truffles or champagne-priced olive oil. Bill offers a bold new twist on this hugely popular cuisine.
There's a Roman saying along the lines of: 'the more you pay, the less well you eat'; Bill shows you how to take common ingredients from your supermarket and achieve healthy and satisfying Italian-inspired dishes.
Divided into themed chapters – from quick and easy suppers and deliciously stress-free meals for friends, to no-fuss oven-baked comfort food, lazy weekend food and big Italian-style get-togethers – Bill's Italian Food will bring fresh ideas to your kitchen. And along with the mouth-watering pastas, meats, salads and grills you'll be serving happiness, comfort and joy.
One again Bill Granger offers maximum flavours with minimum effort giving Italian food an inspiring makeover to tantalise the tastebuds as well as fit into our busy lives.
spinach with crushed olive, ricotta salata, pinenut dressing
roasted asparagus with black olives and mint
gnocchi baked with tomato, ricotta and pecorino
pappadelle with spicy chicken ragu
pumpkin and amoretti lasagne
braised pork meatballs with sultana, pinenut and marjoram
fresh salad of peach, prosciutto, treviso and burrata
pizzette with caramelised fennel, rosemary and salami
tagliatelle with courgette, sweetcorn and pecorino
sausage stuffed pork loin with garlic and rosemary
pancetta roast chicken with walnut stuffing
squash, fontina and ricotta gratin
summer berry and white chocolate tiramisu
blood orange, almond and mascarpone cake