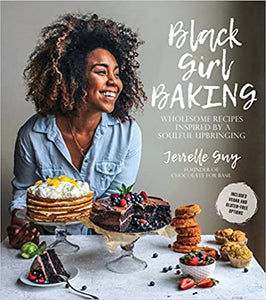 Black Girl Baking: Wholesome Recipes Inspired by a Soulful Upbringing by Jerrelle Guy
Regular price $21.99 Sale
Paperback
**2019 James Beard Foundation Book Award Nominee** 


"Black Girl Baking has a rhythm and a realness to it." - Carla Hall, Chef and television personality

Invigorating and Creative Recipes to Ignite Your Senses

For Jerrelle Guy, food has always been what has shaped her―her body, her character, her experiences and her palate. Growing up as the sensitive, slightly awkward child of three in a race-conscious space, she decided early on that she'd rather spend her time eating cookies and honey buns than taking on the weight of worldly issues. It helped her see that good food is the most powerful way to connect, understand and heal. 

Inspired by this realization, each one of her recipes tells a story. Orange Peel Pound Cake brings back memories of summer days eating Florida oranges at Big Ma's house, Rosketti cookies reimagine the treats her mother ate growing up in Guam, and Plaited Dukkah Bread parallels the braids worked into her hair as a child. 

Jerrelle leads you on a sensual baking journey using the five senses, retelling and reinventing food memories while using ingredients that make her feel more in control and more connected to the world and the person she has become. Whole flours, less refined sugar and vegan alternatives make it easier to celebrate those sweet moments that made her who she is today. 

Escape everyday life and get lost in the aromas, sounds, sights, textures and tastes of Black Girl Baking.