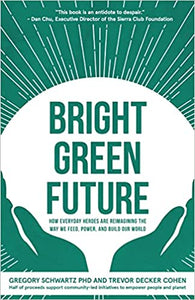 Bright Green Future by Gregory Schwartz PHD and Trevor Decker Cohen
Regular price $14.95 Sale
Paperback
Bright Green Future chronicles a renaissance at the edge of a crisis. As climate change shifts our planet towards an uncertain future, a movement of unlikely heroes are building a blueprint for a better world. It's a world where clean power grows wealth for local communities, resources regenerate themselves, city planning is driven by the people, and healthy soil is our greatest asset. These changemakers have opened a gateway for ordinary people to begin imagining and building the bright future we deserve.
Greg Schwartz holds a Ph.D. in geography from the University of Texas, Austin, and his work focuses on cultural and technological solutions to climate change. He has lived on four continents and traveled the world extensively. Greg also has a plant-based lifestyle and is a former pro athlete, both of which inform his approach to human and planetary health. Currently he lives in California with his wife and two sons. For more about Greg, visit http: //www.theplanetdoctor.com
Trevor Decker Cohen is a writer who' s passionate about a better future for the planet. He's edited two books. Healthcare without Corruption provides a non-profit vision for the US healthcare system. Thermoinfocomplexity establishes a new theory on the way evolution works.