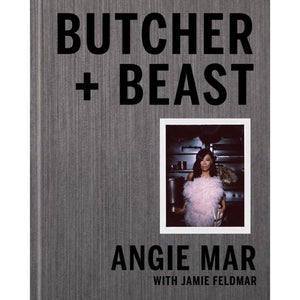 Butcher + Beast by Angie Mar
Regular price $40.00 Sale
Hardcover
The Beatrice Inn's presence in New York City spans close to a century, and its history is ever changing, from one of New York's first speakeasies, frequented by Fitzgerald and Hemingway, to a beloved neighborhood Italian restaurant to one of the city's most notorious night clubs. Angie Mar purchased the Beatrice Inn in 2016 and led the storied landmark into its next chapter. Mar transformed the space and the menu into a stunning subterranean den where guests are meant to throw caution to the wind and engage in their most primal of senses. Pete Wells, in his rave two-star
New York Times
review, summed it up best: "It is a place to go when you want to celebrate your life as an animal."
Now, in Mar's debut cookbook, the Beatrice Inn experience will resonate with readers no matter where they live.
Butcher and Beast
invites readers into this glamorous, gutsy, and forever-nocturnal world. Mar's unconventional approach to flavor profiles are captured in over 80 recipes, including
Milk-Braised Pork Shoulder, Duck and Foie Gras Pie, Venison Cassoulet,
and
Bone Marrow-Bourbon Crème Brûlée
. Throughout are also essays on Mar's controversial and cutting-edge dry-aging techniques, her adoration of Champagne, the reality of what it takes to lead in the New York City restaurant scene, and the love and loyalty of her tight-knit family. Visually arresting photography shot entirely on Polaroid film captures the elegant and ever-opulent world of the Beatrice Inn.
"A fashionably photographed book that's as high-rolling and unapologetically carnivorous as [the Beatrice Inn]."—The New York Times Book Review