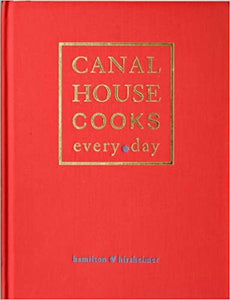 Canal House Cooks Every Day by Melissa Hamilton and Christopher Hirsheimer
Regular price $20.00 Sale
Hardcover
From the award-winning authors of the Canal House Cooking series, their first comprehensive collection of recipes by home cooks for home cooks. This magnificent compilation celebrates the everyday practice of simple cooking and the enjoyment of eating—two of the greatest pleasures in life.

From the award-winning authors of the beloved Canal House Cooking series comes Christopher Hirsheimer and Melissa Hamilton's Canal House Cooks Every Day. This magnificent cookbook, inspired by Christopher and Melissa's popular daily blog Canal House Cooks Lunch, offers a year of seasonal recipes for the home cook.

Canal House Cooks Every Day, the 2013 James Beard Foundation Award winner for General Cooking, is a handsome, red cloth-covered, 384-page book with nearly 250 recipes and over 130 lush photographs and illustrations. It's home cooking at its best—by home cooks, for home cooks—and it's pure Canal House.

Regardless of the experience level of readers, Canal House Cooks Every Day will have them running to the kitchen to start cooking. The delicious, easy-to-prepare recipes celebrate the everyday practice of simple cooking and the enjoyment of eating. Christopher and Melissa use the best seasonal ingredients available to cook every day. Their recipes reflect the seasons, their appetites, their cravings, the occasions, and/or the demands of feeding their own busy families. This instant classic includes recipes for dishes as simple as a lunch of splendid summer tomato sandwiches or crackers spread with preserved lemon butter with smoked salmon and fresh chives to more complex meals like braised chicken with wild mushrooms and fine egg noodles.

In addition to the recipes, this wonderful cookbook includes menus for all the great holidays throughout the year, plus twelve intimate essays—on picking a ripe tomato, making your own pasta, or foraging for wild mushrooms—that introduce each month and capture the feeling and vibe of that special time of the year. Cooking through this book, readers will become better cooks and gain an increased appreciation for the wonderful flavors and aromas of a home-cooked meal.

Canal House Cooking has previously been featured for its inspiring recipes, friendly and knowledgeable voice, and drop-dead gorgeous photographs in a variety of publications including O, the Oprah Magazine, Bon Appétit, The New York Times, and The Wall Street Journal. Christopher and Melissa's daily blog, Canal House Cooks Lunch, has thousands of daily followers interested in what these two women have cooked up that day. This wide fan base will be pleased to see the release of this dynamic duo's newest cookbook with accessible and easy recipes for home cooks.