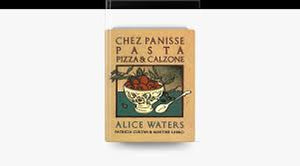 Chez Panisse Pasta Pizza & Calzone by Alice Waters
Regular price $22.00 Sale
Paperback
This classic cookbook brings together 87 recipes for pasta sauces and 36 pizza and calzone recipes, as well as tasty pasta doughs, such as buckwheat, red pepper and saffron. Featuring beautiful line drawings throughout, the book is a feast for the eyes as well as the palate.


Alice Waters, whom Craig Claiborne has called "that great American rarity, a deservely celebrated native-born chef," gives us here the extraordinary pastas, pizzas, and calzones that she serves in her famous Chez Panisse restaurant in Berkley, California. Based on the freshest and best seasonal ingredients, every recipe is bursting with flavor and unexpected combinations. Inspired as much by Providence as by Italy, these recipes reveal Chez Panisse's strong Mediterranean affinities, not only in the choice of ingredients, but also in the combinations that make them so tantalizing.
Chez Panisse Pasta, Pizza & Calzone
 will send cooks from the garden to the kitchen, rejoicing in the bounty of nature and in miraculous transformations of fresh, beautiful ingredients into tantalizing meals.


Praise for
Chez Panisse Pasta, Pizza & Calzone


"After reading Alice Water's new book, I'm ready to proclaim her a culinary oracle. She dazzles me—the things she does with garden-fresh ingredients, the unexpected and wonderful results she obtains. This is a glorious book by a great chef."
—Paula Wolfert


"These recipes are fun to read, a good combination of the tried and true and the extrasensory perception that is almost a trademark of Alice's cooking. I especially like havuing the four seasonal sections in which the accent is on what is fresh then. The fruits and herbs and everything else that goes on the table are of that one special time in the year."
—M.F.K. Fisher


"Pizza? What an odd, ordinary thing for one of America's most respected establishments to put on the menu. When the pizza came and I tasted it, I saw what Alice Waters was about: the ordinary made extraordinary by the use of fine unusual ingredients—in this case girolles in a general creaminess, spiked with a little Parmesan and onion—put together by a skillful and unusual taste."
—Jane Grigson