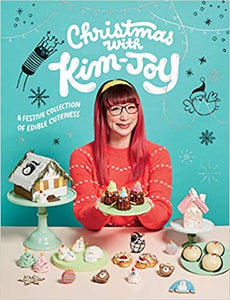 Christmas With Kim-Joy A Festive Collection of Edible Cuteness by Kim-Joy
Regular price $22.99 Sale
Hardcover
Kim-Joy's baked creations have charmed fans since she was in the final of the Great British Bake Off 2018. Following on from her bestselling debut book, Baking with Kim-Joy, she's turning to everyone's favourite time of year – Christmas!

Sharing her simple decorating techniques and her delicious flavour combinations, Kim-Joy will delight novice and seasoned bakers with – amongst many others – her melted snowman cake pops, white chocolate igloos with marshmallow seals, penguin bao buns and incredible inspiration for designing your own magical gingerbread village.

Whether you're after ideas for edible Christmas gifts or bigger bakes to feed friends and family, you'll find a treasure trove of adorable recipes here that will melt everyone's heart.

Christmas 2020 is officially set to be the sweetest Christmas on record!