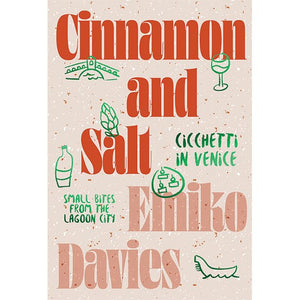 Cinnamon and Salt Cicchetti in Venice by Emiko Davies
Regular price $29.99 Sale
Hardcover
Cinnamon and Salt
is a collection of recipes, stories and photographs that invites you to beautiful Venice through its beloved cicchetti.

Cicchetti (pronounced chi-ke-tee) are little morsels; think of them as appetizers, aperitivo or hors d'oeuvres - but cicchetti are undeniably, distinctly Venetian and a delicious nod to Venice's casual way of life.
In
Cinnamon and Salt
, Italy-based food writer Emiko Davies delves into the rich, multicultural history of Venice and its unique cuisine, detailing more than sixty classic and modern recipes, from fried to sweet and from small plates to drinks.
Try sweet and sour radicchio, the legendary fried meatballs, or creamy whipped cod on squares of polenta. Indulge in Venetian soft-shell crab before moving on to rose petal jam and sugar-coated fritters. You'll even find recipes for a spritz, a Bellini and a thick hot chocolate, and be let in on the secrets to creating your own authentic cicchetti.